In addition to a JD, Mr. Henrichs has a BA in Business as well as an MBA. He has taken these two schools of thought and combined them into a unique system to resolve cases. He uses the well known and well respected SWOT (Strengths, Weaknesses, Opportunities, Threats) analysis widely used by all major Fortune 500 companies to reveal and value the key issues for any matter.
Although the SWOT categories are easy enough to list, the key is the critical and creative way that the facts and the law are analyzed to fit within a particular category. For example, there is an old legal "wives tale" that "We do not disagree as to what the facts are. We only disagree as to what the facts mean!" This is the creative part of putting the facts into context and juxtaposing them with the law.
How Leading Lawyers Think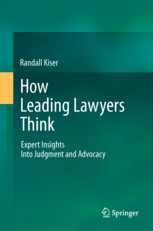 Mr. Henrichs was interviewed and quoted in a recent book on litigation strategy titled "How Leading Lawyers Think" written by Randall Kiser and published by Springer. His quotes are on pages 109 and 172.